Via Gather Journal & Artful Desperado.
INGREDIENTS
For the meringues:
– 4 egg whites at room temperature
– 3/4 cup of sugar
– 1 teaspoon of vanilla
– 1/4 cup of melted Nutella (place in double boiler until soft and runny)
– 1 pinch of salt
– 1 pinch of cream of tartar (optional)
For the compote:
– 1 pound of fresh sour cherries (frozen if you can't find fresh)
– Juice of 1 lemon
– 4 Tablespoons of sugar
For the whipped cream:
– 250ml of whipping cream
– 1 tablespoon of sugar
– 2 drops of vanilla extract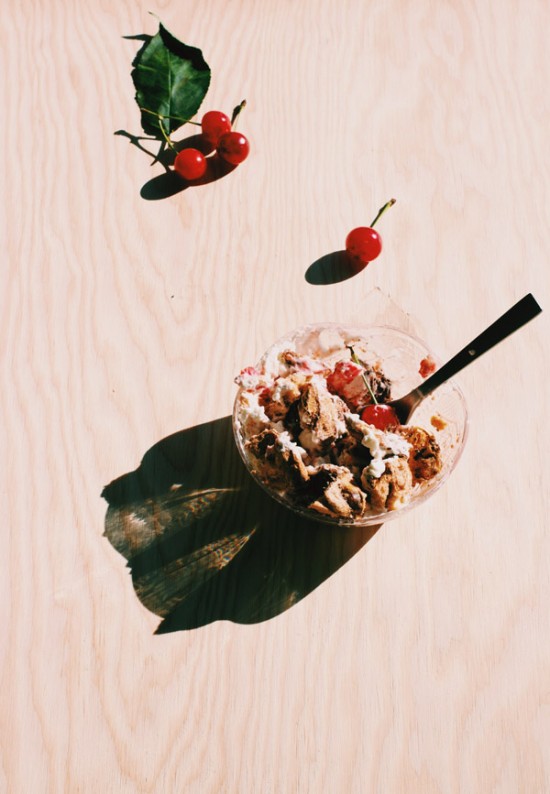 Meringues:
Preheat the oven at 200F. Prepare a tray with parchment paper and turn on the double boiler to start melting the Nutella.
Whip the egg whites until they start to get nice and foamy (soft peaks), slowly start adding the sugar, vanilla, pinch of salt and pinch of cream of tartar. Continue to whip until the egg whites are stiff and glossy. Don't over do it or you'll kill it. To test it, simply try to fluff the egg whites, if the "peaks" hold, then you should stop.
Add the nutella and fold a few times using a spatula. Mix 6 times max as we want them to look like marble and not like brownies. Using a large spoon, scoop nice big dollops of meringue onto the tray with the parchment paper. Once you have all your meringues ready, stick them in the oven for two hours. After this time, turn off the oven and leave meringues inside for a few hours to cool down. Just make sure they're not gooey, if they are, bake longer.
Compote:
Grab a saucepan, dump yo cherries, add the lemon juice and sugar, simmer for 10 to 15 minutes (until it looks jammy). Done.
Whipped cream:
Grab a bowl, dump yo whipping cream, sugar, and vanilla. Whip it like a polaroid picture. Once you have stiff peaks, you're good to go (same rule as the meringues, if the peaks "hold" then it's done).
SERVE IT
Crush the meringues. Add the whipped cream and drizzle some of the compote on top. Garnish with a cherry. And voila! The best dessert ever!